Fun-Bike-Run Series Coming To High Lodge!
Alongside our Go Tri Duathlon Series we are also organising a Fun-Bike-Run Series at High Lodge.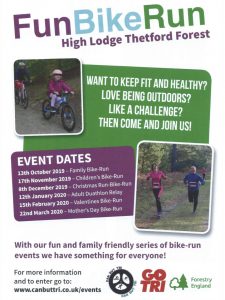 Whilst the Duathlon Series is intended to give people an introduction to multi-sport competition we are aiming the Fun Series more at those who just want to get active and participate.
Perhaps this will be for general fitness reasons, to enjoy being outdoors in the forest, to spend time with family and friends or just as a personal challenge.
Whatever the reason we have an event to suit most people!
On October 13th we have a family bike-run challenge, November is a children's bike-run event with varying distances according to age and for December we have a Christmas duathlon.
Into 2020 and there will be a duathlon team relay for one runner and one cyclist, a Valentines bike-run challenge in February and a Mother's day bike-run for March.
For those who are more competitive, why not take on the Go Tri duathlon in the morning and then get the rest of the family involved in the afternoon fun events? There's enough time for lunch in-between if you are quick!
There's medals for all finishers and parking is at a reduced rate of £5 for the whole day too.
Download the Fun-Bike-Run Series Leaflet here
For more details and entry information about each event in the series click here
We hope to see you there!!
Iain & Jill – Can But Tri Events Team